Hybrid Apps Development
Partnering Techno Exponent for hybrid app development services
In the world of mobile applications it is the potential of customer reachability that separates the ordinary from the best. Conceptually hybrid development is giving the provision to different operating systems in sharing identical codes which reduces cost and time of software development. Moreover, new features could be convincingly integrated for different platforms simultaneously providing existing users delightful experience.
Hybrid apps development cherishes to optimally utilize the advantages of both native and web applications. Concurrently enterprise apps are equivalently benefitted from cross platform development. A technology is optimally utilized when common users can access its features from indigenous devices. In terms of professional and commercial use if employees are getting the chance of utilizing same software irrespective of device nature, operational efficiency of business improves by leaps and bounds. We are totally committed in offering you the best software solutions.
Techno exponent is a leading hybrid apps development company headquartered in Dallas USA. The company is offering you robust mobile apps integrated with latest cross platform tools. Faster market delivery and reaching out to wide audience are the salient characteristics of our hybrid applicatioin development services accompanied with robust technology and mobile experience.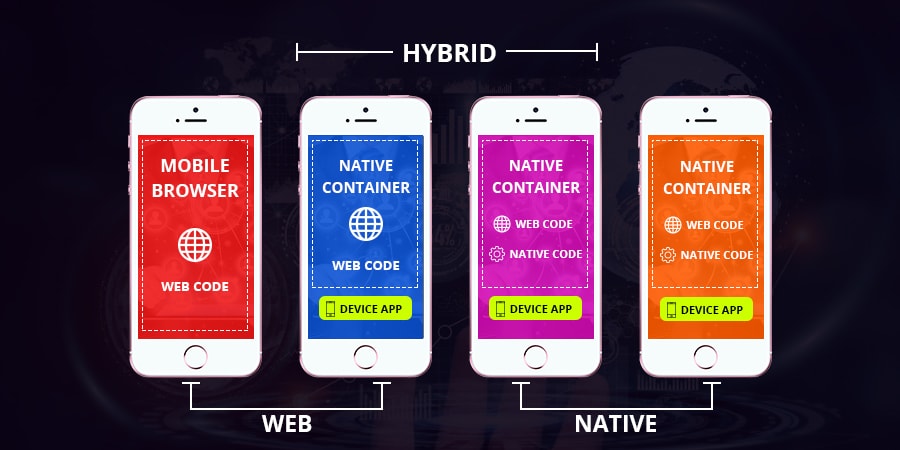 Development options for Hybrid mobile apps
Xamarin development
Techno Exponent has received considerable success with Xamarin. Through its native API access, Xamarin projects are well capable of taking full advantage of advanced features available in every operating system. In the present industrial context more than 70 percent code shared across all mobile development inclusive of user interfaces are built with Xamarin.
Appcelerator Development
With Appcelerator platform you are getting the chance of reutilizing 60 to 90 percent for identical apps meant for different platform. Moreover, it provides immense help in integrating mobile backend as a service which is popularly known as MBaaS capabilities. Appcelerator is creditable for creating the open source Titanium SDK that facilitates coding in iOS, Android, BlackBerry, Windows, Tizen and HTML5. Having its base on JavaScript it is including more than 5000 application programming interfaces enriching the catalog hybrid apps for end users.
PhoneGap Development
PhoneGap makes extensive usage of web technologies like HTML, CSS, and JavaScript. It is widely known for platform independence as codes compiled can be utilized for multiple operating systems making it the most sought platform for hybrid mobile apps. Need for platform specific skillsets is not mandatory as updates can be incorporated in the same open language.