Hire Node.JS Developers
Node.js is an open-source, cross-platform JavaScript run-time environment for executing fast and scalable JavaScript code server-side and networking applications. Node.js is the interface to the V8 JavaScript runtime. The basic modules are written in JS. It's built-in library let applications act as a Web server without any software like Apache HTTP Server or IIS. In Node.js server platform, NPM is a pre-installed package manager and is used to installs Node.js programs from the NPM Registry. We have Expert level Node.js developers and you can hire Node.js Developer from us. We have a team specialized in Node.js. The team consists of developers with minimum 4+ years experience and all of them are having Bachelor or Masters of Engineering Degrees in Computer Science from various renowned Universities.
Choosing the Back-end Technology is one of the vital decisions that head of a company needs to take. JavaScript is always one of the most popular technology for both back-end and front-end development. Node.js can be better termed as an "environment" as it's not a JS Framework. It allows executing JavaScript on the server side. Node.js is best for Data- heavy websites and apps, for real-time web-based solutions, and it is capable of handling huge traffics.
All of our Node.js Developers are polite, dutiful, responsible, honest, and hard working. They are well versed in English and ready for Voice/ Video call with you whenever needed. Here, we are using popular Project Management Tools to complete the project seamlessly and in an organized way. We use sub-version repositories like Github, Bitbucket etc.
We offer Dedicated Hiring for Node.js Developers. Upon the dedicated hiring of a Node.js Developer, you can directly talk to the developer, assign and plan the work directly; and leaves will be directly informed to you. At any point, if you feel the assigned developer is not providing the quality you are looking for, you can inform us with a 15 days prior notice and we will re-schedule a new developer. Your dedicated Node.js developer will be connected with you through Email, Skype, and Phone Number etc. For more details, please call us at +91 8900 027 268 or e-mail us at sales@technoexponent.com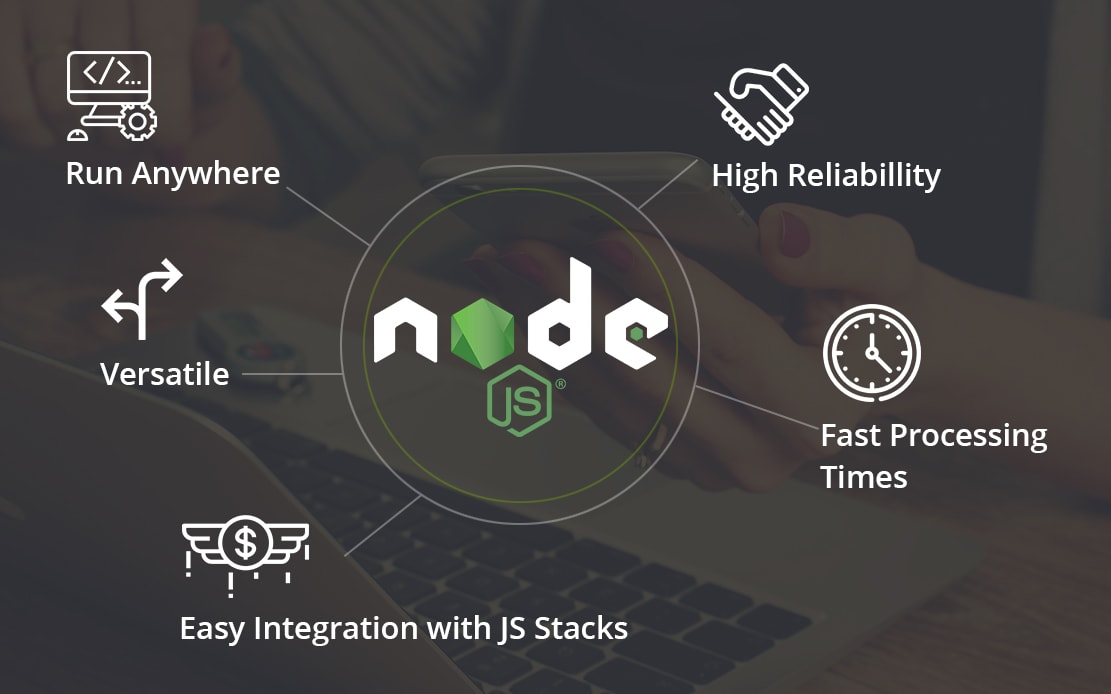 Advantages of choosing Node.js:
1. Asynchronous Non-Blocking I/O Model:
Node.js works as an asynchronous non-blocking I/O model to make the platform clean, robust, and usable. Because of the Non-Blocking I/O Model, it becomes the ideal for the data-intensive real-time applications that have to perform in varied environments. The I/O intensive operations in Node.js are performed asynchronously to scale up a large volume of users.
2. Node.js and its super speed:
Node.js runs on the V8 engine that is developed by Google. V8 Engine uses JS into native machine code and operates at a super speed. The best thing about Node.JS is Event Loop. It separates all the issues by generating separate threads and instead uses a single thread, that is, the event loop that takes care of all the asynchronous I/O operations.
Node.js gives excellent network applications that can tackle parallel connections with increased throughput. LinkedIn chose Node.js on Ruby on Rails for the purpose of their mobile traffic. Node.js reduced the number of servers from 30 to 3and the app became 20 times faster and seamless. Even PayPal recorded a 35% decline in their response time at the same time doubled requests per second after using Node.js applications.
3. Node.js and Data Streaming:
Normally on the web platform, HTTP Request and Response are considered as two different events but actually, both of them are data streams. Node.js does this best, as it processes files at the time of uploading and this reduces the overall processing duration when data comes in the form of streams.
4. Node.js is Present Everywhere:
JS is present everywhere both in browser and server because of Node.js. Node.js runs smoothly in both places and also very flexible. That's the reason, clients prefer Node.js too much on other technologies.
5. Real-Time Web Applications:
Real-Time Web Applications are best handled by Node.js. The event-driven architecture serves as both the client-side and the server-side. This was written in JS and thus the synchronization process is very fast and sorted. The event loop through web socket protocol works on TCP that handles the multi-user function and prevents the overhead of HTTP for web development.
6. Node.js solves Database Queries:
The new NoSQL Databases like MongoDB, CouchDB has Database Queries in JS Frameworks. It's not like Ruby on Rails that needs the same format from JSON to binary models.
7. In charge of Proxy Server:
Node.js comes up as a saver to proxy different services with different response times or for collecting data from diverse sources.
8. Hosting:
Everyday bulk number of new developers is shifting towards Node.js. PaaS (Platform as a Service) service providers like Heroku and Modulus are officially allowing Node.js deployments very easily and seamlessly, this is growing interest of lots of developers and clients to use Node.js to avoid Hosting difficulties they normally face.
9. Community Driven:
Node.js has a giant size open source community that produced many top quality modules to add additional possibilities to Node.js. Socket.io is one of the best among them. Socket.io programming usually pertains to the basic communication protocols like TCP/UDP and raw sockets like ICMP. These protocols have a small communication overhead when compared to underlying protocols such as HTTP/DHCP/SMTP etc.
10. Dynamic NPM:
With 60,000+ modules, the Node Package Manager (NPM) has risen with a significant growth to beat the RoR (Ruby on Rails) platform. Node.js is getting popular day by day and the number of its users are increasing day by day, all are getting simply addicted to Node.js and reasons are truly justified.
Few Popular sites built with Node.js:
1. PayPal
PayPal Holdings, Inc. is an American company operating a worldwide online payments system that supports online money transfers and serves as an electronic alternative to traditional paper methods like checks and money orders. UI of The PayPal website is developed with Node.js.
2. Yahoo
Yahoo, the $40bn market valued tech behemoth, has been using Node.js for years. The company uses Node in a many of its web services and applications, For example, Yahoo Answers and Yahoo Screen.
3. Groupon
Groupon is one of the best Deal sites that offers discounted gift coupons those can be used to local or national companies while purchasing. This gives it's users the ability to purchase anything. This website has a valuation of $2.8 billion. This website is built with Node.js.
4. Wall Street Journal Online
This is one of the most popular American daily newspapers mainly focused on business and economic news. This is also built with Node.js. Dow Jones, who is the Engineer of Wall Street Journal Online says, "The simple truth is Node has reinvented the way we create websites. Developers build critical functionality in days, not weeks."
5. Klout
This site measures and ranks its users according to online social influence by using social media analytics.This website was launched in 2008 and received a great funding of $40 million and then later it was acquired for $200 million in 2014. This website is also built with Node.js.
6. Secret
Secret is an online platform that lets user share any of their personal secrets anonymously with anyone. This site received $35million funding. This site is also built with Node.js.
7. BandPage
Bandpage was launched in the year of 2010 that let artists create customized fan pages within Facebook. 5,00,000+ musicians use this site to share tracks, videos, photos, and their touring schedule with their fans. This site received a funding of US $27.6 million. Node.js is used to build this website.
8. Shutterstock
This is one of the most popular stock photography agencies all over the globe providing photographs, illustrations, vectors, videos and music to businesses and individuals. This site was launched in the year of 2012 and the site is valued at the US $2 Billion. Node.js is used to build this website.
9. Zendesk
Zendesk provides ticketing, tracking and customer service solutions for software development platforms. It is an essential tool for providing efficient web services and is valued at the US $1.8 Billion. Node.js is used to build this website.
10. Opencare
Opencare is a website that matches patients to the best healthcare service provider nearby that fit their requirements. This is one of the biggest and revolutionary healthcare marketplace websites. Node.js is used to build this website.
Node.JS After-Development Support:
Techno Exponent provides excellent After development support like:
1 Year FREE Bug Fixing
3 Years FREE File Backup
After 1 year, 1 time FREE Garbage Clearance