Angularjs development
AngularJS is a JS-based open-source front-end web application framework, that is maintained by Google. The main purpose of using it is creating dynamic web apps with its structured framework. Techno is one of the best AngularJS Development company, we have a specialized team, who are highly experienced in AngularJS. We are always working on the latest version of AngularJS to provide the best available advantages of it to the clients. Whenever the new version is launched, we upgrade ourselves immediately.
All of our Angular Developers are having Bachelor or Masters of Engineering Degrees in Computer Science from various renowned Universities. They are all minimum 4+ years experienced, fluent in English, and always ready for Voice/ Video call or text chat during the project runs. They are very polite, dutiful, responsible, honest, and hard working. We use popular Project Management Tools to provide our clients the best result. All of our Angular Developers are habituated of using Subversion repositories like Github, Bitbucket etc.
We assign our Angular Developers based on different project requirement, and also we offer them for dedicated hiring. Upon the Dedicated Hiring of an Angular Developer, a client can directly talk to the developer, assign the work directly, it's something like working with your own staff, who is remotely situated in our office in India. Your dedicated Angular developer will be connected with you through Email, Skype, Phone Number etc. For more details, please call us at +91 8900 027 268 or e-mail us at sales@technoexponent.com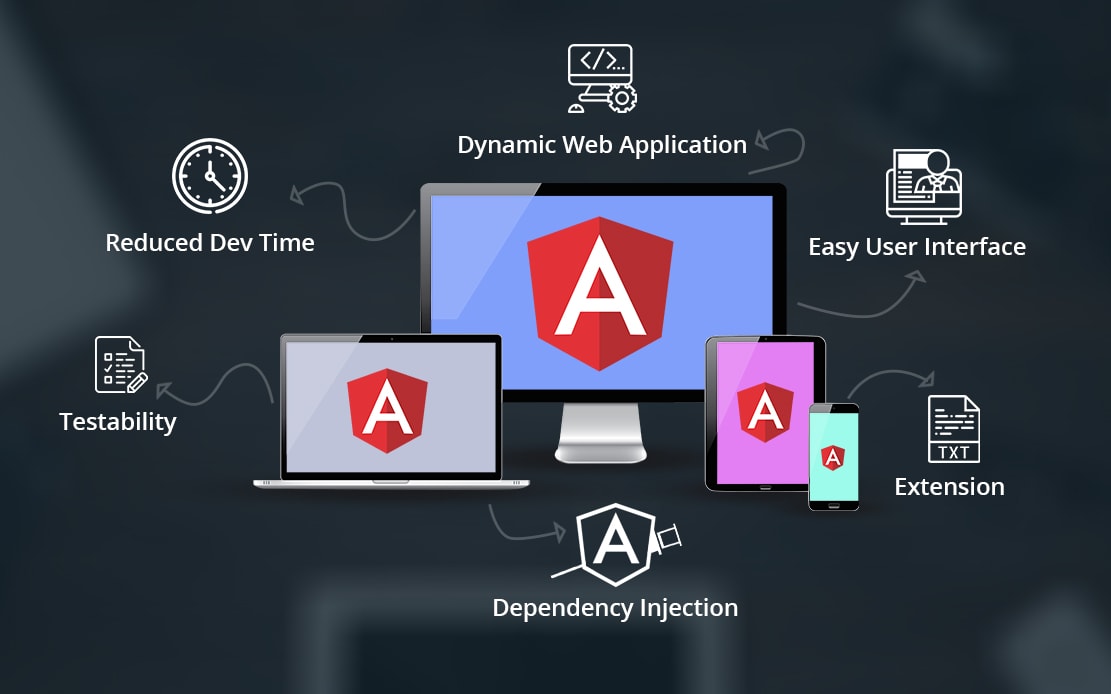 Advantages of choosing Angular:
Angular is developed and maintained by dedicated Google Engineers. There's a large community of Engineers from where a developer can get any help or support to face any new and complex challenges. When it's a Google product, it's always clients' No. 1 choice.
Most of the frameworks let its developers split the application into MVC (Model-View-Controller) component and then write a code again to put them all together, where Angular strings them together automatically. This saves lots of time to launch an application, thus it is always preferable for developers.
One of the great advantages of Angular is that it is Unit Testing Ready.
This makes use of HTML as a declarative language. Angular provides data binding capacity to HTML. This gives clients an excellent user experience. The Two-Way Data Binding component empowers programmed synchronization of information between the model and the view.
Angular Engineer composes small sized codes and receives greater usefulness in return. Misko Hevery from Google and establishing co-creator of AngularJS, says that AngularJS tends to be most part utilized one for interior applications.
Angular utilizes dependency injection and utilizes division of concerns.
Few Popular sites built with AngularJS:
1. The Guardian
The Guardian is a British daily newspaper, known from 1821 until 1959 as the Manchester Guardian. UI of The Guardian website is developed as an AngularJS.
2. PayPal
PayPal Holdings, Inc. is an American company operating a worldwide online payments system that supports online money transfers and serves as an electronic alternative to traditional paper methods like checks and money orders. UI of The PayPal website is developed as an AngularJS app.
3. JetBlue
JetBlue Airways Corporation, stylized as JetBlue, is an American low-cost carrier, and the 6th-largest airline in the United States. The existing website is built with Angular.
4. Lego
This is one of the world's top manufacturers of play materials. The existing website is built with Angular.
5. iStock Photo
iStock is an online royalty free, international microstock photography provider based in Calgary, Alberta, Canada. The firm offers millions of photos, illustrations, clip art, videos and audio tracks. The website is built with Angular.
6. Upwork
Upwork, formerly Elance-oDesk, is a global freelancing platform where businesses and independent professionals connect and collaborate remotely. In 2015, Elance-oDesk was rebranded as Upwork. The website is built with Angular.
7. Netflix
Netflix is an American entertainment company founded by Reed Hastings and Marc Randolph on August 29, 1997, in Scotts Valley, California. It specializes in and provides streaming media and video-on-demand online and DVD by mail. The website is built with Angular.
8. Freelancer
Freelancer is one of the biggest Freelancing Marketplace websites. The website is built with Angular.
9. Weather
Weather.com is one of the top weather forecasting online report website. The website is built with Angular.
10. YouTube for PS3
This is a video hosting and sharing portal owned by Google. PS3 app was developed in Angular JS framework.
AngularJS After-Development Support:
Techno Exponent provides excellent After development support like:
1 Year FREE Bug Fixing
3 Years FREE File Backup
After 1 year, 1 time FREE Garbage Clearance